MODULE BLOCK CONTAINER KlEE KAI FRAME
Frame allows you to implement their own budget projects a modular construction. Two workers with hoist can collect 60 sq. m. modular building frames for 3-4 hours working time. The frame allows to erect buildings of any purpose to the two floors. The set comes top and bottom of the frame and four horizontal racks. Longitudinal modular building frame made of steel with a shelf 100 mm and steel uprights with the shelf 75 * 75 mm. The frames of the modular buildings are equipped with fitting angles. The presence of fittings allows to erect a modular building without using welding. Frames are bonded together by means of fittings for bolting.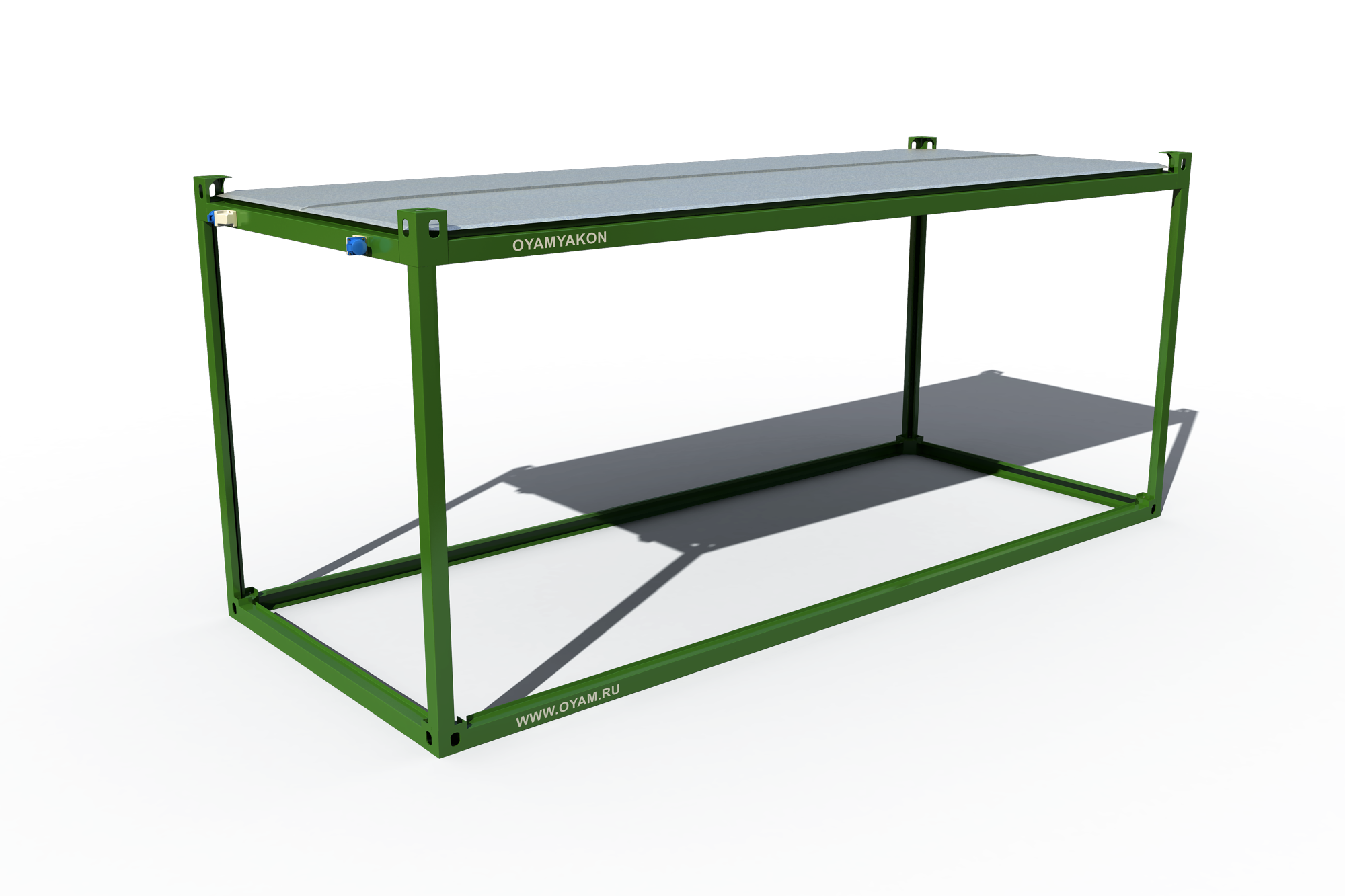 FRAME IN TRANSPORT PACKAGE
Today the company "Construct-OYAM" delivers its frame all over Russia, CIS countries, Europe. Operational delivery of customer frames anywhere in the world. Frame OYAMYAKON saves transportation costs, since one euro or railway wagon platform can be immediately transported 30 containers of modular frames. Thirty frames delivered a Euro wagon to the site after installation constitute almost 500 square meters of modular building.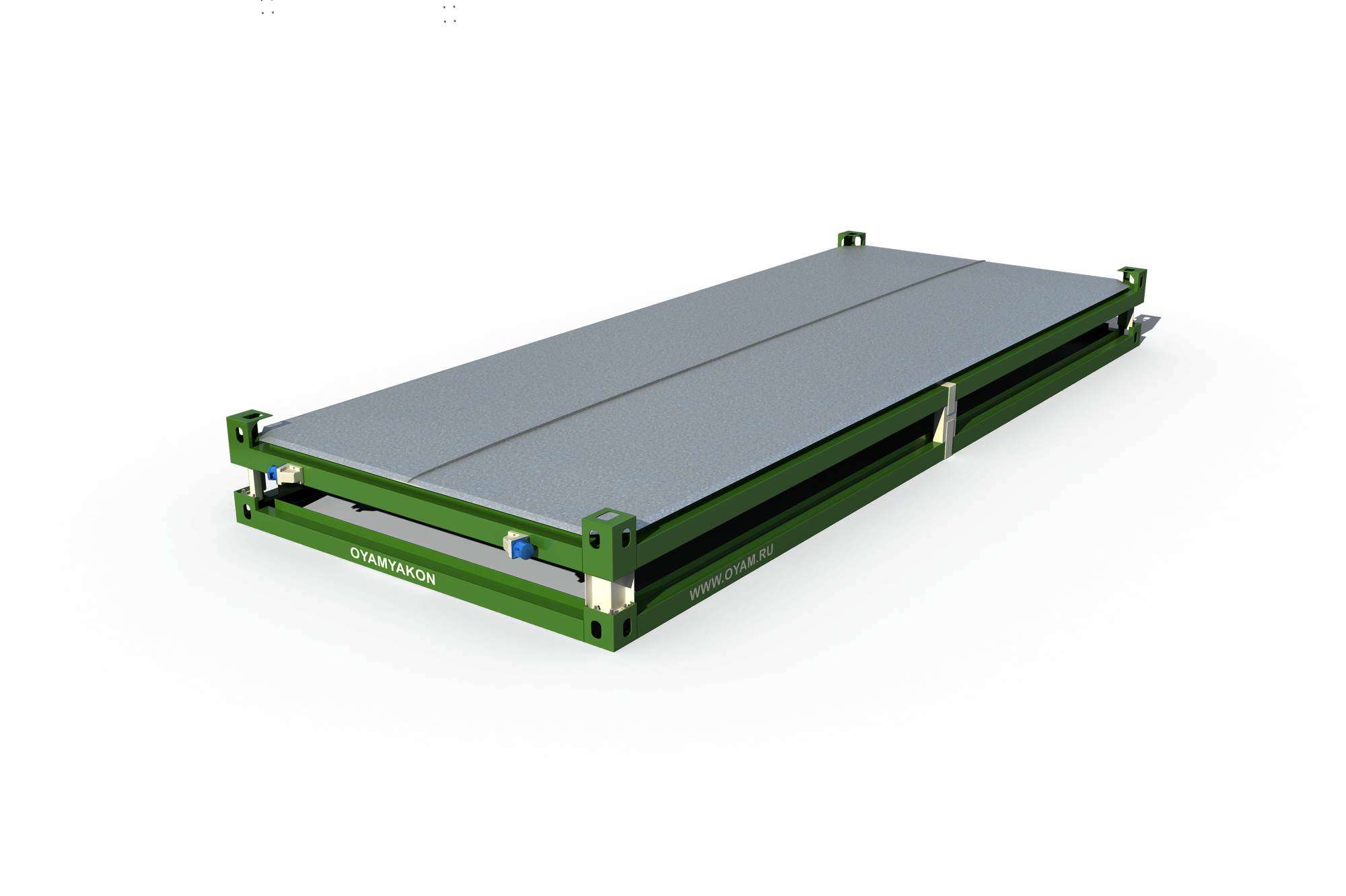 ---
VIDEO PRESENTATION
This is a new model of the demountable frame Oyamyakon series Kli-Kai 2017. We changed the principle of assembling the container, increased the strength of the frame, made the container more attractive and installed large side racks 160 * 158 mm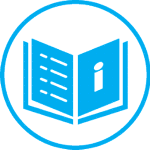 ---
TECHNICAL SPECIFICATIONS OF OYAMYAKON FRAME KLEE KAI
| | | | |
| --- | --- | --- | --- |
|  # |  Specifications |  Indicators |  Optionally |
|  1 |  Dimensions mobile unit - a container assembly mm. Meets ISO 668 and GOST standards. |  Length: 6 055 Height: 591 Width 2: 2 435 |  Standard 20 feet or any oversized size of the customer. |
|  2 |  Overall dimensions of the mobile unit - container transport packaging (Freight Packing), mm |  Length: 6 055 Height: 850 Width: 2 435 |  Changes in proportion to the external dimensions and configuration |
|  3 |  Inner size mm. |  Length: 5 860 Height: 340 Width 2: 2 240 |  Changes in proportion to the external dimensions and configuration |
|  4 |  Weight, kg. |  300 |   |
|  5 |  The load on the overlap kg / m² |  Ground Floor 150 Upper floors 100 |   |
|  6 |  Frame mm. | Lower Longitudinal / Socket / upper longitudinal beam 3 / End / beam 3 Corner posts 4 |   |